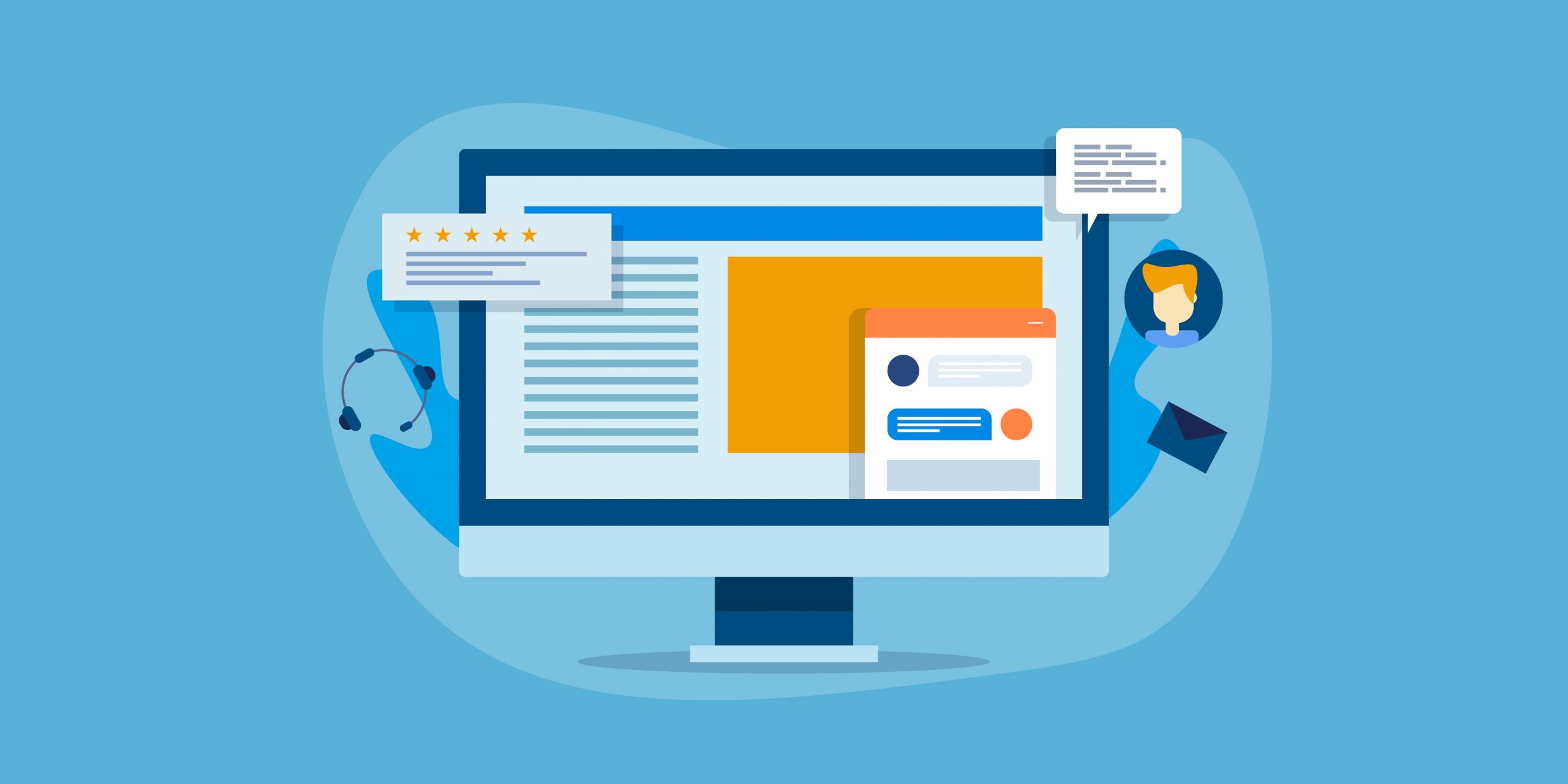 What is Live Chat?
Live chat refers to a real-time online communication channel that can be used to connect with prospective and current customers. With a live chat widget, your ecommerce business can: 
Welcome and support inbound leads
Answer customer questions and inquiries
Resolve any customer complaints or issues with a proactive chat before it escalates
Provide information on pricing, hours, services, and more
Connect with your customers on a human level
In short, live chat provides a convenient and simple way for your support team to give customers the help and attention they need. And while that may be simple enough, it's a lot more challenging to implement a near-perfect live chat experience 100% of the time. 
But we can try. In this article, we'll take a look at the benefits of live chat and top 10 live chat best practices you should follow to provide an excellent customer experience.
Why Should My Business Utilize Live Chat?
Not sure investing in live chat is right for your company? There are several reasons why it's worth using:
Customers prefer it: Did you know that globally, live chat has an 83.1% customer satisfaction rate? This puts it ahead of phone support and social media support. Website visitors and customers alike love an omnichannel support system, and live chat is the cherry on top.
Resolve customer problems right away: Live chat allows your business to answer the most common questions instantly.
Personalize your brand/give your brand a voice: Using scripts, chat etiquette, and/or humans in your live chat, you establish a brand voice to help you stand out from the crowd. This helps your business appear more personable, accessible, and connection-oriented.
Improve your overall customer satisfaction: Chat support enables customers to get their issues resolved without having to make phone calls or wait for email replies. What does this all boil down to? It's simple: Fast response times make for happy customers.
Multifunctional: Not only does live chat help with customer satisfaction and retention, it can cross-function as means to reduce cart abandonment and even present upsell opportunities.
Positively impact your bottom line: Live chat is more cost-effective than phone support. (In fact, live chat costs companies approximately 15-33% less than phone support.) Not only do you save on the toll-free number costs, but reps can multi-task with several chats at the same time. This means they can handle more tickets, improving productivity and your return on labor investment.
10 Live Chat Best Practices to Follow
Ask the customers for their feedback about the chat experience


Place your live chat window strategically


Pay attention to grammar and spelling


Don't be too robotic or impersonal


Respond to all inquiries in a timely manner


Don't end a chat too early


Track life chat metrics


Make sure you have a live chat window on every important page


Give accurate timeframes


Don't forget the human aspect
1. Ask the customers for their feedback about the chat experience
At the end of every chat, give customers the chance to rate their experience and provide feedback with chat surveys. You don't have to make it complex. Keep it as simple as a short survey with ratings like "Excellent," "Average," or "Poor" and match them with appropriate emoticons. Or, you might ask a series of very simple questions that require just a few minutes to answer. Here are few sample questions your live chat agents can use to gauge the success of a chat experience:
| Yes/No Questions | Short-Answer Questions |
| --- | --- |
| | |
| Would you recommend our service/products to your friends and family? | How did you find your live chat experience to be? |
| Did you experience satisfactory customer service today? | What could we improve upon for our next live chat experience? |
| Did the chat support agent provide quick and helpful support to you? | How long did it take for us to answer your question or resolve your issue? |
| Would you return to our business and use our service/product again? | What were the reasons you reached out to a live chat support agent? |
This feedback can help you gauge how well your agents are working to meet the needs of visitors and fine-tune your chat support moving forward.
Just be conscious that open-ended questions are harder to quantify for feedback.
Pro-tip: You can also leave a text box for optional additional thoughts or follow up with customers via email (just make sure you provide a copy of the chat session transcript!).
2. Place your live chat window strategically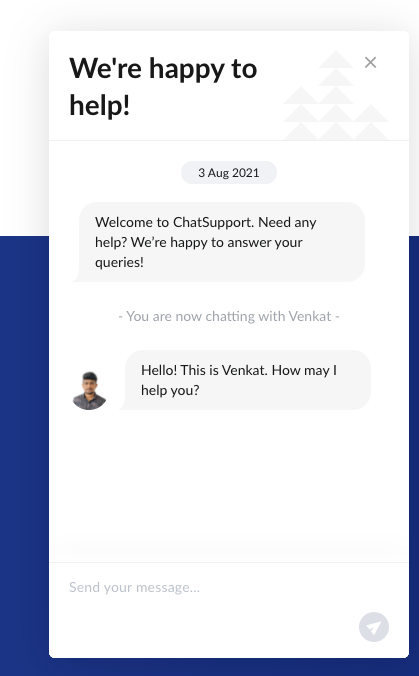 To improve your customer and user experience with live chat software, make sure it's placed in an optimal position. For example, you might place your live chat window on the bottom right-hand corner of the page. This is to ensure you don't block any critical information or navigation links that your customers need to see otherwise.
Alternatively, you can use a small, but brightly colored chat button to open the chat window when someone clicks on it. If you choose to have a small button, ensure it's clearly visible. The button should catch customers' eyes without them needing to scan the entire page to find it.
3. Pay attention to grammar and spelling
While this is obvious, it's easy to make spelling errors when you're not careful. Checking grammar and spelling is especially important when using a live chat feature with humans behind the screen.
Grammar errors and typos are a quick way to compromise your business' professionalism and brand. (In fact, customers will spend 8% less time on websites with spelling mistakes and grammar errors.) This can extend to all live chat correspondence. 
4. Don't be too robotic or impersonal
Even though you can use pre saved replies, it's important to keep your chat correspondence light, friendly, and, above all, human. Speaking naturally is the goal—and that requires using real people, rather than an AI chatbot. Natural and personal conversations are what deliver the most human experience and connection.
Here are some other tips you can use to ensure your chats don't come off as too robotic:
Use the customer's first name when greeting them.
Recall any past experiences you might have had with this customer (if they're a returning visitor).
Throw in the use emojis and casual (but not inappropriate) language.
Ask about their sales preferences and interests.
Use an appropriate icebreaker to get to know them a little better.
Pro-tip: Connect your live chat workflow to your customer relationship management (CRM) software. Take a few moments pre-chat to look over the notes in the account. Personalize your chat conversations based on this information and deliver the most tailored correspondence! 
5. Respond to all inquiries in a timely manner
One study found that the average first agent response time was 46 seconds. While your live chat agents might not meet this standard every single time, it's imperative that they act with some urgency. Set a target time for your agents to respond within 1-2 minutes or less.
Customers expect real-time chat to mean they'll receive a response in real-time. This means all live chat support agents should be able to respond to customers in a timely manner instead of leaving customers waiting for hours or even days without a response (as is sometimes the case with email). 
6. Don't end a chat too early
Live chat provides real-time support, so that means your customer service agents need to remain with customers until the problem is solved or escalated to the next department. Customers may expect a fast response, but that doesn't mean they want to be cut off before they're satisfied with the resolution.
It's one thing to provide a solution or answer their question, it's another to fully ensure that the customer is completely satisfied. For example, you might answer one question about hours of operation and end the chat while the customer needs to ask a follow-up question about location and services.
To ensure that your team members don't do this, you can take advantage of a live chat script with canned responses and a few different templates of conversation flows. This may help with fully rounding out a conversation and ensuring a customer's dynamic needs are met.
7. Track live chat metrics
You can't have flawless live chat performance unless you're consistently monitoring customer service metrics. With the right metrics in place, you can easily compare your team's productivity to your defined key performance indicators and take action if and when necessary.
Consider these KPIs:
First Response Time (FRT): This is the amount of time it takes for one of your support agents to respond to a customer inquiry. 
First Contact Resolution (FCR): This metric is the percentage of incoming requests that are successfully resolved or closed during the first interaction with the customer. 
Number of Chats: This measures the number of queries received within a certain period of time. It could be a day, a week, a month, or even longer if necessary. It's best to create corresponding tags for each type of chat, such as: open, unassigned, missed, on hold, or resolved.
8. Make sure you have a live chat window on every important page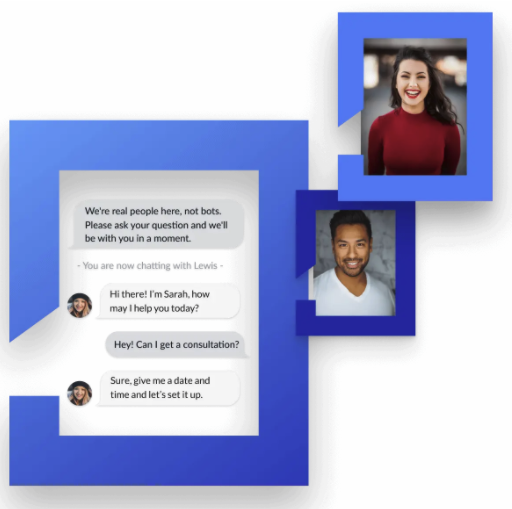 It's not necessary to place your live chat windows on every single page of your site. Instead of overwhelming your customers and having your chat windows come across as popups, focus on the most important web pages where visitors are more than likely to need help such as:
The homepage
FAQ pages
Product, sales, or service pages (these are the most critical as it can help with increasing conversion rates)
Returns & shipping information pages
Other policy pages
9. Give accurate timeframes
During high-volume times, it may mean customers have longer wait times before connecting to a live chat agent. Set customer expectations by providing an accurate time frame as to when someone can expect a response. While many customers want instant responses, they'll be fine with waiting a bit, as long as they know what to expect.
You won't be able to address all customer issues within minutes. More complex issues need time for investigation and may need to be escalated to another department. If this is the case, always let your customer know how much time it will take to reach a resolution.
10. Don't forget the human aspect
Using pre saved replies is okay, but give your chat agent the flexibility to be fun, playful, and human. This means empowering your agents to speak openly, use appropriate internet lingo, emojis, and more. Here are some more tips on how to bring in the human element of your live chat:
Live chat support agents should introduce themselves by name.
Display a small icon or photo of the agent.
Be prepared to open a video chat if necessary.
Be prepared to provide email addresses and work phone numbers for more direct support.
The Final Best Practice: ChatSupport
Simply offering a live chat solution on your website or mobile app might not be enough. It's not just the implementation that matters, but the execution that makes all the difference.
If you want a user-friendly live chat tool that makes it easy to follow these best practices, get started with ChatSupport for free today! ChatSupport includes plenty of features that make it easy to add the human touch to every conversation, whether for sales or customer support.

If you're looking for the next best live chat solution, get in touch with us today!
Like this article? Spread the word.